Pictured Center and Right: Performing in FIVE WOMEN WEARING THE SAME DRESS and NOISES OFF!

Maybe it's the yellow car, the high heeled tennis shoes, or the cat ear headphones, but whatever it is, you can tell right away that Marketing Manager Victoria Hoffman has a flair for the dramatic.
But it didn't start out that way.
As a child, she was painfully shy. In her home town in New Jersey, there were classes at the local library each summer and she thought she had signed up to learn calligraphy, but when she went there, discovered it was actually an acting improvisation class.
"I got in there and I was wondering why there were no tables or pens and the teacher came in and said, 'Ok, who's ready to do some improvisation?'" Victoria explained.
She was sinking down in her seat while all the other kids were waving their hands enthusiastically, and she didn't want any part of it.
"I was trying to be invisible and of course he calls on me because I'm the only one without my hand up and I had to do this little comedy bit. He gave me a scenario and said play these characters and I did," she said.
To her surprise, her comedy routine made the other kids laugh and she loved it. From that moment on, she loved performing and she believes that finding that outlet helped her overcome a lot of her shyness.
The first real show she did was in the 6th grade. The teacher was a former opera performer and every year he would put together a truncated version of a Broadway Show for the students to perform. During a practice, he saw Victoria doing some impromptu comedy on the sidelines and wrote a bit into the scene to highlight her comedic abilities.
"Comedy is what got me started," she said. "I really love comedy and the timing has always come naturally to me."
She went on to perform in commercials and live theater whenever she could. She discovered that her mom had also been an actor and she eventually convinced her to get back on the stage. They were able to do a couple of shows together, including Steel Magnolias, and she loved sharing that experience with her mom.

Pictured, above, from left: Acting up with mom Frances Fritsch in Sister Mary Ignatius Explains it All for You; Sense and Sensibility; OCTA Buddy Award
Even though she loved being on stage, when it came time to decide on a career, she chose to go to college and study communications instead of pursuing acting.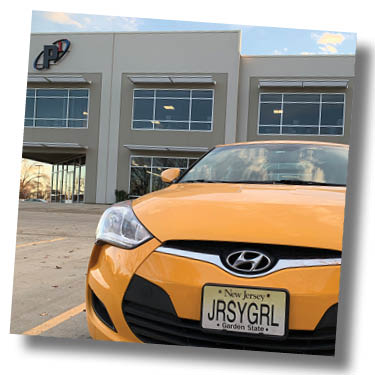 These days she auditions for about one show per year, often with the Olathe Civic Theatre Association. She recently performed in Jane Austen's Sense and Sensibility, winning the "Best Featured Actress" OCTA Buddy (Oscar) Award or her portrayal of the scheming Fanny Dashwood.
"The award was really surprising and an honor to be recognized by theatre patrons." Victoria said. "I really enjoyed that role and love entertaining people and making them laugh."
Even though she didn't choose acting as a career, her creative talents have been instrumental in her marketing career.
P1 Group CEO Smitty Belcher remarked "Everything about her portrays an attitude of confidence. I knew that level of self-assurance would make a difference for P1."
Whether she is putting together a proposal or performing on the stage, she definitely has a flair that is all her own and, as Smitty would say, "Once you've met her, you won't forget her."